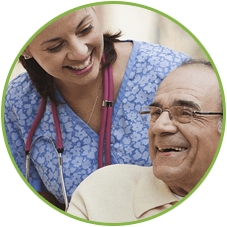 Skilled Nursing Care
Leaving the hospital and restoring oneself into normal life requires meticulous effort and a lot of willpower. When a patient moves out of a hospital setting and is in medical rehab, he/she has specific nursing needs. Any support and encouragement given to the patient at this stage shall positively impact on their quick recovery. Keeping this in mind, we bring you our nursing care services in Hyderabad renowned for results.
For patients on a tracheostomy tube, or on Ryles tube or PEG tube feeding, or with a Foley's catheter, or any other wounds/incisions, nursing care is a critical care for early recovery and to minimize the risk of infection.
Our specialized 24/7 skilled nursing care facilities provide a high level of care after a patient moves out of a hospital setting. We provide the highest level of care and our well-trained and certified nurses will:
Measure vitals on a regular basis
Administer medication as prescribed by doctors
Provide bowel & bladder care
Tracheostomy care
Assist with feeding, bathing & dressing


Skilled Nurses for each Specialty