NEUROLOGICAL REHABILITATION
The aftermath of certain neurological disorders leave the patients disabled in ways that are distressing and seemingly of a dooming nature. Our well facilitated neuro rehabilitation centres in Bangalore thereby present as a blessing to the afflicted. The quality of life following an adverse neurological incident does not have to be unmanageable anymore.
Features of our services for neuro rehab in Bangalore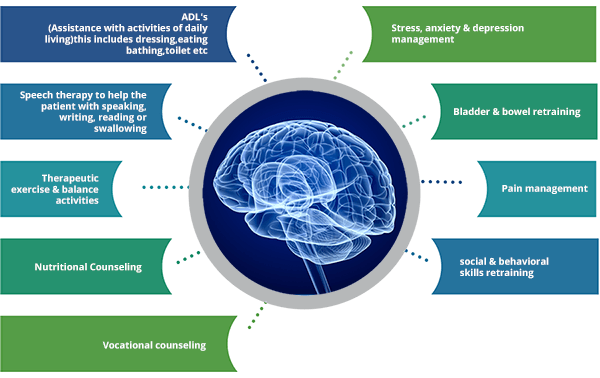 Unparalleled Care and Attention by experts
Our highly skilled and experienced neuro rehabilitation team is at your disposal throughout the day; well trained to deal with trauma and other disorders of the neurological systems including stroke, spinal cord injuries, brain tumours, etc. to name a few.
Personalised treatment plans
We understand that a broad understanding of the aftermath of a disease is far from sufficient for effective rehabilitation. Hence we put together personalized plans and procedures for each of our patients- through a combined effort of everyone involved in the treatment.
Upon the organization of a functional and effective care and treatment plan, the efforts are collectively diverted towards achieving the desired results. This is done by means of constant improvisations on the plans taking various factors into consideration- for example; the progress of the patient, response to physiotherapy, etc.
Various Therapeutical Services
Our ultimate focus is to bring about a positive change in your lives- improve the quality of life and try to restore it to normal. Being among the neuro rehab centres in Bangalore, we use a range of therapies to reverse the impact of the disorders that have left their marks. Among these are: strengthening, gait & balance training activities, bowel & bladder retaining therapies, speech and swallow therapies, etc.
Cognitive and Behavioural Therapies
In case of any deficits that have occurred as a result of the neurological accident or disorder; the services of CBT brought to you by SuVitas amalgamate the improvement of brain functions in various areas with the current emotional requirements of the patient. The treatment modality aims to restore the compromised functions of the patient occurring as a result of a stroke, injury, or surgery.
Working Along with the Families
The fact remains that the families of the patients are their true comfort and most effective motivation. Through counselling and adequate training of the families, the patients are guaranteed services that are not merely professional but with added benefits of empathy and care. This helps remove the stigma often associated with the aftermath of such diseases.
SuVitas' neuro rehabilitation centre in Bangalore are established with a mission to enhance the overall quality of lives of all those who require care and a stepping stone towards leading a normal life again by minimising the aftermath of their afflictions.