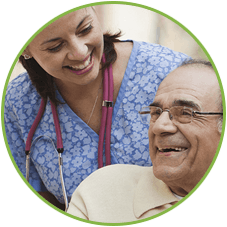 Skilled Nursing Care
Our specialized 24/7 skilled nursing care facilities provide a high level of care after a patient moves out of a hospital setting for patients on a tracheostomy tube, or on Ryles tube or PEG tube feeding, or with a Foley's catheter, or any other wounds/incisions nursing care is a critical care for early recovery and to minimize the risk of infection..When a patient moves out of a hospital setting and is in medical rehab, he/she has specific nursing needs.
This is where our specialized 24/7 nursing care facilities come into the picture. We provide the highest level of care and our well-trained and certified nurses will:
Measure vitals on a regular basis
Administer medication as prescribed by doctors
Provide bowel & bladder care
Tracheostomy care
Assist with feeding, bathing & dressing
The person suffers from weakness and pain and is unable to manage even basic activities such as personal care.
Skilled Nurses for each Specialty